AUGUST 2018 BLUES DEVELOPMENT
---
---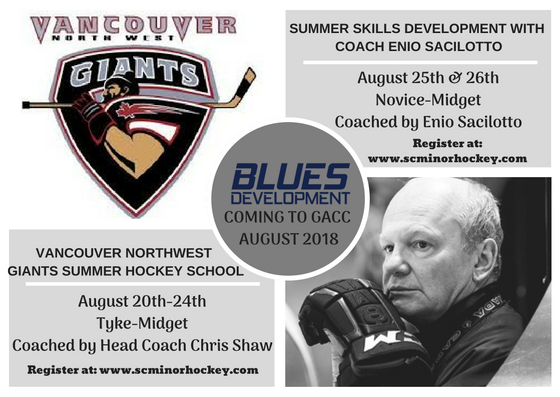 ---
SCMHA is excited to offer two awesome development opportunities this August!
Vancouver Northwest Giants Summer Hockey School:
Dates: August 20th-24th
Location: Gibsons Area Community Centre Rink
Head Coach: Chris Shaw, Professional Hockey Player, former BCHL Coach and current Northwest Giants Major Midget Coach
***Together with current Northwest Giants current players and Sunshine Coast Blues Alumni
Ages: Tyke to Midget
***Players will be placed in their appropriate skill group to maximize our teaching efficiency, working on individual skill and individual game tactics.
Cost: Tyke ($139.00) Atom + Peewee ($399.00) Bantam + Midget ($139.00)
Summer Skills Development with Coach Enio Sacilotto:
Dates: August 25th and 26th
Location: Gibsons Area and Community Centre Rink
Head Coach: Enio Sacilotto
***Together with SCMHA Coaches
Enio Sacilotto is an Internationally renowned professional hockey coach, mental trainer and team building expert in addition a teacher, public speaker, workshop facilitator of 34 years. Coaching stops include professional leagues in Italy, Switzerland, England, Denmark, Norway and Croatia. Most recently Enio worked with the Victoria Royals of the Western Hockey League and the Croatian Senior Men's National Team at the 2017 World Championships. He has lead his teams to numerous championships and top levels in the standings. Enio is the founder of International Ice Hockey Systems Inc. (1982) who operates hockey camps and Mental Training Seminars around the world.
Ages: Novice-Midget
Cost: Novice ($100.00) Atom-Midget ($250.00)