Underage Player Exemption: If your player wishes to try out for a division outside their age group, you MUST complete the Underage Player Exemption Request Form and submit it to the Registrar.
Overage Player Exemption: If your player is new to hockey or wishes to play a 4th year of Midget Hockey, you MUST complete the PCAHA Overage Exemption Form and submit it to the Registrar.
***Rules and Restrictions will apply.
NEW TO HOCKEY?
You
MUST
complete the

PCAHA REGISTRATION FORM

and email, along with a copy of your player's birth certificate to

registrar@scminorhockey.com

. Your player
WILL NOT
be considered registered until this paperwork is received.
Registration Criteria:
All players must be registered in their age division.
There will be no registration of younger than age groups stated, ie-no one born in 2017.
Registration is on a first come/first paid basis.
Returning players have the first opportunity to register for the 2021/2022 season. Online registration will be available June 1st. You are not considered registered unless all supporting documentation is received, including payment.
Early Bird Registration fees are valid only until June 30th, 2020- NO EXCEPTIONS
Accounts in arrears

Any outstanding fees from the 2020/2021 season are due before registration for the 2021/2022 season is accepted.
Payment Terms and Procedures:
Registration is considered complete when all criteria are met.
Payment by Cash/Cheque: *Select payment by cheque through online registration.
***WE ARE STRONGLY URGING ALL PAYMENTS TO ME MADE THROUGH CREDIT CARD. YOU DO NOT HAVE THE OPTION TO PAY FOR THE ENTIRE SEASON, YOU WILL BE REQUIRED TO PAY 6 MONTHLY INSTALMENTS.
ALL CHEQUES ARE TO BE MAILED TO:
SCMHA, PO BOX 1879, SECHELT BC, V0N 3A0
If you are applying for funding please select 'Cheque' and notify the registrar (registrar@scminorhockey.com) to avoid payment collection.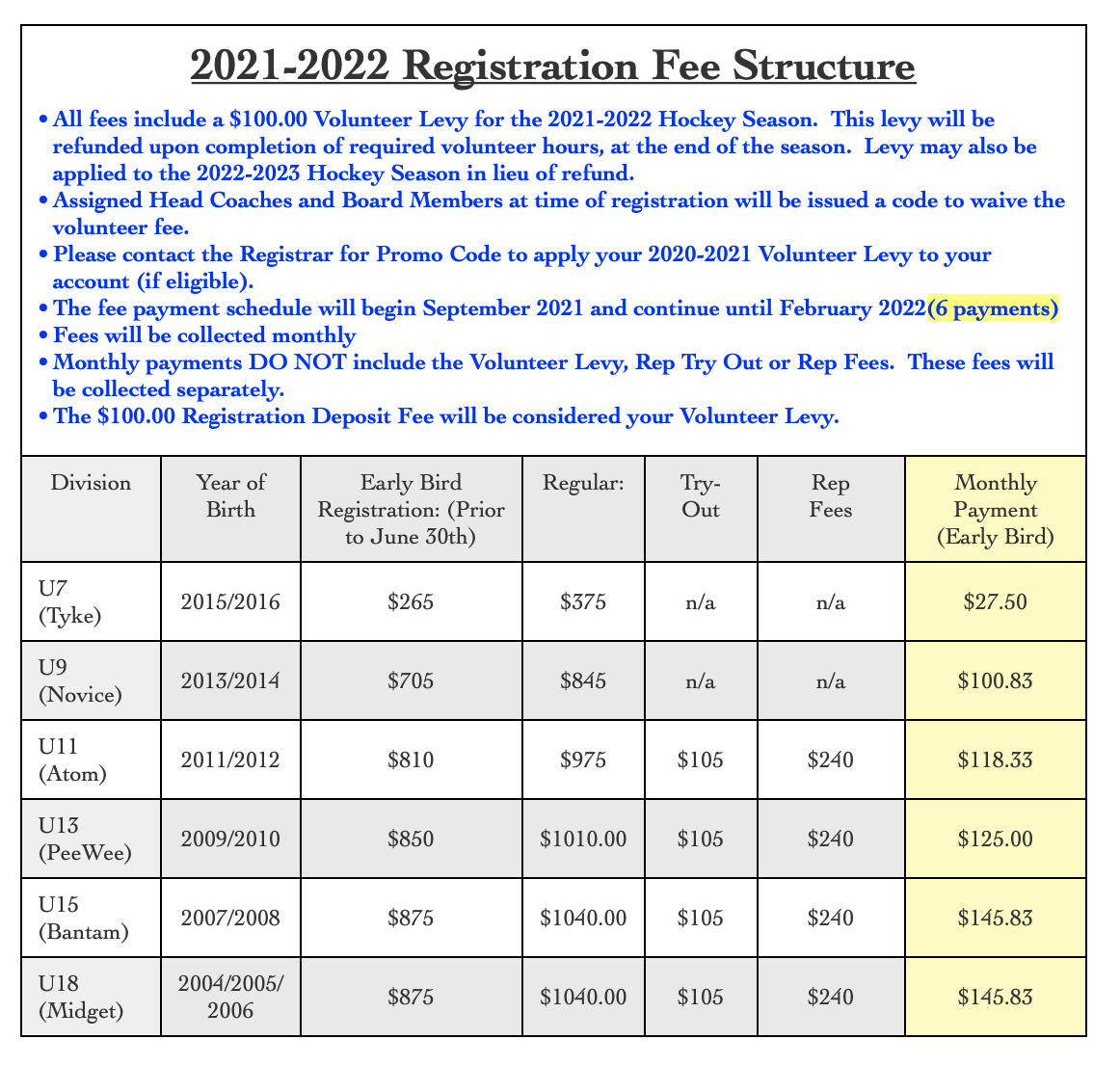 Family Plan:
For any families with 3 or more players a promo code may be entered during check out towards the savings of $125.00 in total. Please email the registrar for the promo code.
*The Family Plan will not be activated until September.
Volunteer Levy:
The Volunteer Levy will be considered received as the $100.00 registration deposit.
If you requested your volunteer levy from 2020-2021 be put towards the 2021-2022 season you should have received a PROMO code from the registrar. Please contact the registrar if you did not receive this code.
Please don't hesitate to contact us if you have any questions or concerns.
See you at the rink!
Sunshine Coast Minor Hockey Association Registrar